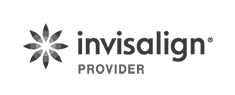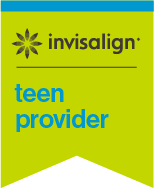 Invisalign treatment for teens is the virtually invisible way to straighten your teen's teeth without the restrictions that come with metal braces. The Invisalign System uses a series of clear, removable aligners that have been custom-made for your teen's teeth. Your teen simply wears them over their teeth and changes them out for a new set of aligners approximately every one to two weeks. Little by little, your teen's teeth gradually shift into place, achieving that confident smile.
Invisalign or Invisalign for Teens?
Invisalign Teen was designed to address certain barriers that are specific to adolescents. Because kids or teens sometimes forget to put the aligners back in their mouth after eating, drinking, or participating in physical activities, this orthodontic treatment may not be as effective for them. Invisalign Teen solves this problem by including a blue indicator dot that keeps track of how many hours the aligners were worn that day.
The second difference between Invisalign for teens and adults is the number of aligners each patient receives. Teens tend to require more replacement aligners since they are more likely to lose or damage theirs.
Is Invisalign for Teens right for your teen?
When worn according to the recommendations, Invisalign treatment for teens can be as effective as traditional braces for the most common teeth-straightening issues. Invisalign can effectively treat mild to severe cases, including underbite, overbite, overcrowding, and gaps between teeth. The chances are very high your teen will be a great candidate for Invisalign treatment.
Invisalign for Teens at our Burke Dental Office
Dr. Aymach has more than a decade of experience with Invisalign and has treated many cases for teens and adults. He creates unique treatment plans for all patients and does treatment follow-ups to make sure that every patient achieves the perfect smile.
During your teen's orthodontic consultation at our Burke dental office, Dr. Aymach will be able to tell you if Invisalign Teen would be the right choice for your child. Call to schedule an appointment today!