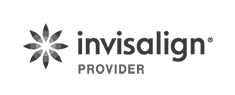 Invisalign clear aligners are a modern orthodontic treatment designed to straighten your teeth. Since their introduction as an alternative to metal braces, clear aligners have taken the dental world by storm. They're nearly invisible, completely removable, and downright comfortable. Clear aligners are industry-known for their discreet appearance, and with that discretion comes freedom. Freedom to smile in photos, freedom to eat whatever you want, and the overall freedom to be yourself. All while your teeth are progressing towards perfection.
Why choose Invisalign treatment?
Effectiveness: With the constant innovation and improvements that Invisalign underwent, Invisalign can now treat majority of cases that otherwise were only treated with traditional braces, including underbite, overbite, overcrowding, and gaps between teeth.
Shorter Treatment: Every person's mouth is as unique as their fingerprint. As such, it's impossible to pinpoint an exact duration for treatment. Some patients who only need minor corrections can complete treatment in as few as six months, while others may need up to 18.
Fewer Office Visits: Invisalign treatment is very flexible, and since the change of aligners will happen at home, there is less need for frequent doctor visits. Follow-up visits to our Burke dental office vary by each case and range between every six to 12 weeks.
The best way to know if clear aligners are the right choice for you is to visit a qualified orthodontist like Dr. Aymach for a consultation. He will be able to answer any questions you have about the process, including "how long does Invisalign take to straighten teeth like mine?" As a Platinum Preferred Invisalign Provider with more than a decade of experience, he'll be able to answer all your questions.
Tips for Success
To ensure the best results from Invisalign treatment, you should:
Clean your aligners regularly
Wear them for the full 22 hours
Follow your schedule like clockwork
Floss and brush your teeth
Hold on to your old aligners
Never eat with the aligners in
Store the aligners properly
Don't feel discouraged
Go to your checkups
Looking for an board certified orthodontist with a great track record of straightening smiles with Invisalign? Contact our Burke dental office and schedule your initial complimentary exam today!